Furangels only lent.
RIP my gorgeous Sooti, taken from us far too young, we miss your beautiful face and purssonality,take care of Ash for us, love you xx000
RIP my beautiful Ash,your pawprints are forever in my heart, love and miss you so much my big boy.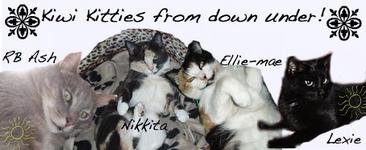 (very special thanks to Alysser for my cute siggy)
RIP my sweet gorgeous girl Ellie-Mae, a little battler to the end, you will never ever be forgotten, your little soul is forever in my heart, my thoughts, my memories, my love for you will never die, Love you my darling little precious girl.
RIP my beautiful Lexie, 15 years of unconditional love you gave us, we loved you so much, and miss you more than words can say.
RIP lil Benson the Hedgehog, came in to our lives suddenly and for a short time ,but you were loved and cared for and missed.