Jeepers is the oldest Guinea Pig (Cavy) we've ever had in over 30 years - he was born April 15, 2006. We adopted him a few months later from one of our awesome veterinarian's wonderful technicians.

    Jeepers' life was as perfect and healthy as it could be for over 5 1/2 years: He played, ate, slept, and enjoyed his carefree life to the fullest! He made us laugh with his high energy and loud whistling!

    In January, 2012, Jeepers' age caused him to become "long in the tooth," requiring almost monthly teeth trimming. Our awesome veterinarian always finds time to fit Jeepers into his busy surgical schedule. When Jeepers is getting his teeth trimmed, he receives a full "spa" treatment, including a manicure and pedicure.

    Since January, 2012, Jeepers has been receiving a dietary supplement (syringe fed) at least twice daily (more, if needed): Oxbow's Critical Care. He loves it and this supplement has helped him immensely with recovery and overall good health during the past 22 months of teeth trimming. (He also loves liquid Vitamin C via syringe daily!)

    Happily, almost 100% of the time, Jeepers bounces back from incisor trimming immediately, ready to eat! However, on the rarer occasions when he needs his molars trimmed, too, sometimes his recuperation is slower and worrisome. Jeepers' "team" is there for him 24/7, working extra hard at those times to pull him through: his great doctor and staff, Critical Care, and lots of TLC (with syringe feedings) from his parents.

    His favorite foods are Timothy hay, shredded carrots, bite-sized apple pieces, spinach (in moderation), celery leaves, green leaf lettuce. His favorite toy is a toilet paper cardboard roll - with paper still on it (so he can make himself into a "mummy"!) He is beautiful, with silky fur and an award-winning smile! His favorite sleep position is being curled up like a cashew in his well-worn/loved cardboard house.

    We are extremely grateful for Jeepers' great health/longevity, superb veterinary care, and continued zest for life!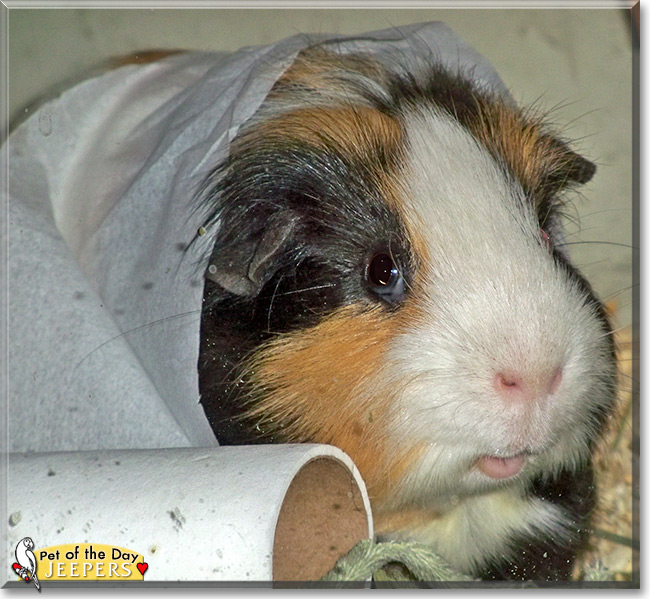 View more images of Jeepers!