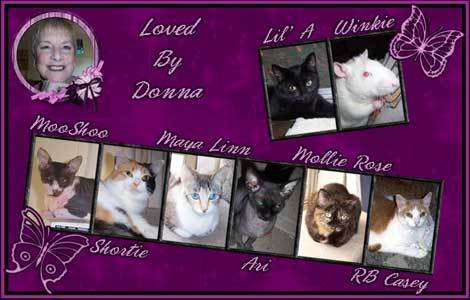 Rest In Peace Casey (Bubba Dude) Your paw print will remain on my heart forever.


12/02
Mollie Rose, you were there for me through good times and in bad, from the beginning.Your passing will leave a hole in my heart.We will be together "One Fine Day".

1994-2009
MooShoo,you left me too soon.I wasn't ready.Know that you were my soulmate and have left me broken hearted.I loved you like no other. 1999 - 2010

See you again "ONE FINE DAY"

Maya Linn, my heart is broken. The day your beautiful blue eyes went blind was the worst day of my life.I only wish I could've done something.I'll miss your "premium" purr and our little "conversations". 1997-2013 See you again "ONE FINE DAY"

DO NOT BUY WHILE SHELTER ANIMALS DIE
!!