Date of Birth

June 13
About persianmom
Pets:

I have 3 persians, Oscar is all black, Scrappy is a calico, and Taz is a tortie Then I have a golden retreiver who lives with my daughter her name is Cinnamon.
Location:

Dayton Oh
Biography:

Hi I'm new at this. I am a nurse. Working for a doctor at a base hospital. I 'm recently divorce. Enjoy meeting new people. My daughter, daughter in love and sister in love all belong. Their names are Christine, Missy and Debbie.
Interests:

quilting , sewing reading dancing swimming.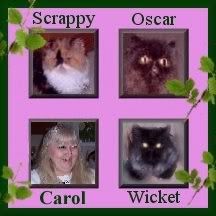 Total Posts
Total Posts

297
Posts Per Day

0.06
General Information
Last Activity

12-26-2007

05:35 PM
Join Date

07-29-2004