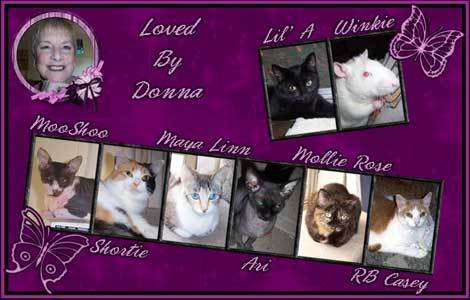 Rest In Peace Casey (Bubba Dude) Your paw print will remain on my heart forever.


12/02
Mollie Rose, you were there for me through good times and in bad, from the beginning, and your passing will leave a hole in my heart.We will be together "One Fine Day".

1994-2009
MooShoo,you left me too soon.I wasn't ready.Know that you were my soulmate and have left me broken hearted.I loved you like no other. 1999 - 2010

See you again "ONE FINE DAY"

Murphy, the day you walked into my life,YOURS changed forever.Rescued from "kitty death row" you gave me the best 3 years of my life. For that, I thank you.I loved you so!1995-2010.

DO NOT BUY WHILE SHELTER ANIMALS DIE
!!
"Rescue isn't glamorous...it is about restoring hope and dignity to creatures for whom no one else cares about. The responsibility is big, but the returns on our emotional investment are far greater."