I've been riding and showing Ditto in 4-H since 2011, and I've owned her since 2012. She got her name from her original owner because when she was young, she would copy the actions and behaviors of other horses. She's quite a sassy horse who seems slightly disinterested in most interactions with people, but has a very surprisingly affectionate side when she wants to show her love and appreciation. She is a red roan, and each year she gets a little more gray. One of her interesting physical characteristics is that she has blond streaks through her mane, giving her natural highlights.

    Ditto is unregistered and her parents are unknown, but that doesn't make her any less of a great horse! She is roughly sixteen years old. She has only been ridden western, she's been gaming (barrel racing, pole bending, etc.) in 4-H since she was about eight years old, and she is a great trail horse. She falls asleep very fast and has a fear of loud or strange noises (she doesn't like country music, but she loves classical music!). Some of her favorite snacks are muffins and cantaloupe.

    She is a very well-behaved horse who listens well to her handler, whether it's from the ground or from the saddle, which has made me proud on many occasions. Recently, I headed off to college and decided to take her with me. She handled the move very well, and our bond has become even stronger now that we rely on each other more for consistency and company.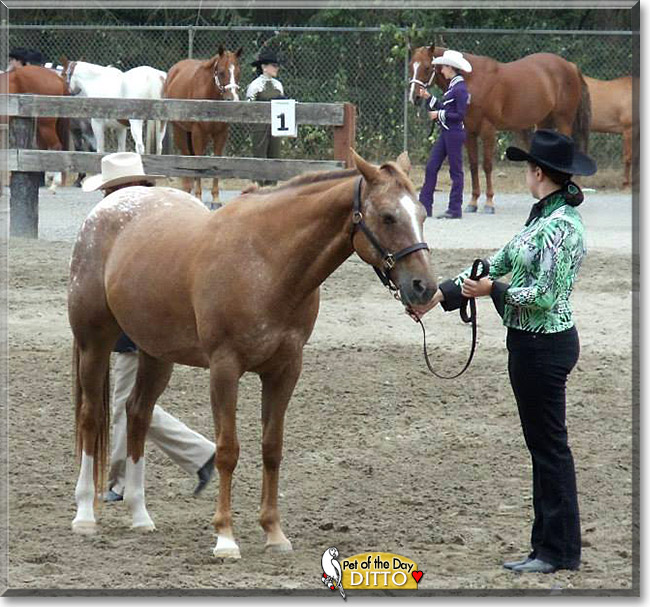 View more images of Ditto!