This is my sweet little guinea pig, Gilbert. He is three years old and has had a rough life. Gilbert suffers from stones in his stomach and has a very strictly controlled diet. Despite his constant stones on and off he is a very cheerful happy guinea pig and loves his cagemate Ludwig. The two were often cuddled together and Gilbert used to cry out if separated from his cage mate. Sadly, Ludwig passed away a month ago and despite being happy with me, when alone I would often hear him crying. He now has a new cage mate, a bouncing baby guinea pig and the two are again inseparable. Gilbert has been taking a gentlemanly role in protecting and looking after his new little friend despite Ryou's crazy running around in the cage playing.

    Gilbert loves attention from his mother and despite being scared of people when he first sees them, he loves a cuddle and will happily laze around on their lap allowing you to stroke him for ages. He is also very polite and runs off of your lap to go piddle elsewhere then returns. He taught himself this. He's a very calm guinea pig and wants to enjoy the rest of his life with his new friend and enjoys running around with a box on his head. He's a very silly but loving boy.

    He is my first pet and hopefully I will have him for many more years. I love him a lot and hope you will all like him too!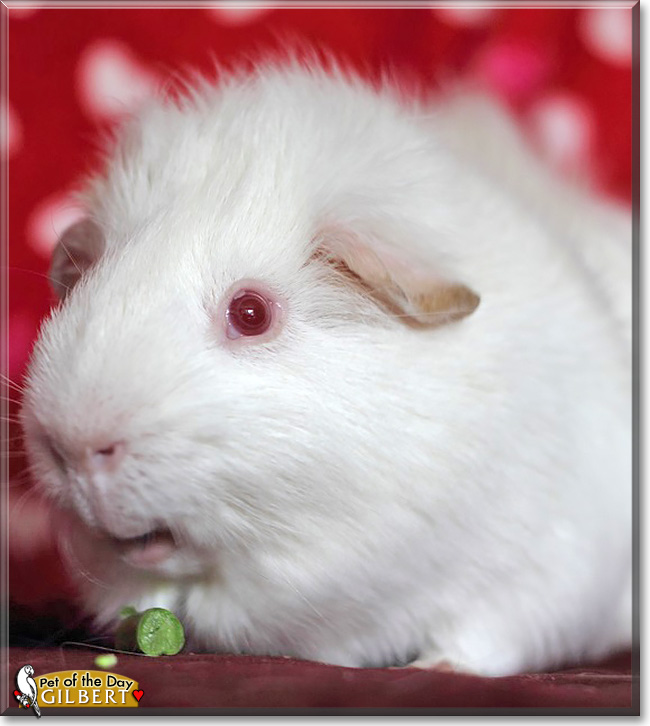 View more images of Gilbert!