I want to tell you something about my little rabbit "Mifi": He's a multi-colored male rabbit and is about five years old. Once a day he was in the garden. Suddenly the doorbell rang. My aunt was coming and with her was her dog. Luna is a adult doberman and is about one meter high. But my little rabbit didn't like the black dog. He went to him and told the dog, that this is HIS garden! Luna tucked her tail down and ran right back to my aunt. That's only one of Mifi's stories.

    He is also cute, and even lets me dress him up sometimes, and can be naughty and likes to eat any plants in the house, at least to sample them, though he knows he is not supposed to, and gets plenty of good food to eat. We all love Mifi.

    Mifi is sometimes very hard headed but to us, his family, he's very cute. He doesn't know any special tricks, but in summer and usually in winter too, he "tidies up" his cage. But in fact he parts all his hay on the left and right side. It looks very funny.

    Mifi is allowed to run wild in our first floor and his favorite place is sitting on our kitchens windowsill as you can see. He's more an independent type but sometimes, when we are watching tv in our living room, he comes and want to be with us, because he doesn't want to be alone in the kitchen.

    He lets me pet him, and sometimes, when I do that, he closes his eyes. That looks very, very sweet.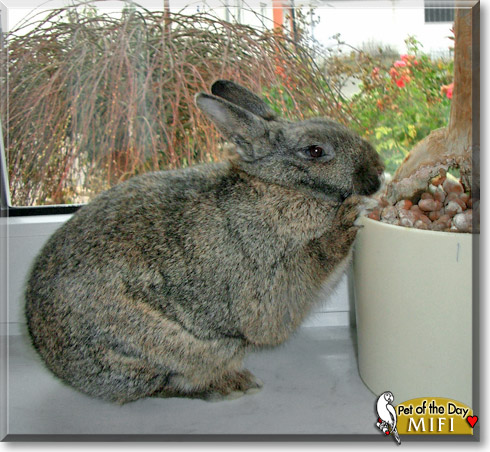 View more images of Mifi!