I got Smudge for my 11th birthday, when he came he was only four years old but seriously underweight and his hooves were really overgrown and split, and also the fact that he was terrified of sticks, other horses and people made it obvious that he had been abused in his past home. I spent days trying to think of a good name for him but finally came to a perfect name when I lifted up his forelock (fringe) to brush his face, I realized that his big white blaze Smudged over his right eye, which gave him the name Smudge.

    After a week of letting him settle in to his new home, I tacked him up for a short ride. It turned out that he hadn't been broken properly and only very lightly backed, so for the first year it was all about re-training him and bonding, getting him used to people again.

    By the end of the first year he had come round a lot, so I decided to move things on a bit and start some jumping, it took me ages to get him to jump just 2 feet as he had never jumped before in his life! Ever since, we have being teaching each other and accomplished great things together. I now take him to a few shows every year, he's now jumping the open show-jumping classes at local shows, I have managed to get him to jump a whopping 4ft! Because he's a 13.3Hh heavyweight pony, that's amazing!! I have also got him to jump a 8'2 spread whilst it was only 2'6 height!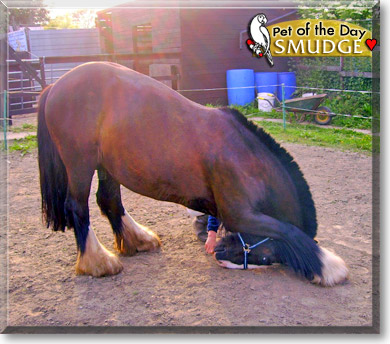 Over the years I have managed to teach him many different tricks and stunts which include bow, rear, capriole, kiss, spanish walk, step up, copy me, take his numnah off, lay down etc, and also various high level dressage movements which include leg yield walk and trot, medium (almost extended) trot, collected trot, a few steps of piaffe (trot on the spot) extended canter and half pass in walk. From day one it's been just me and Smudge, working hard together every step of the way. It's taken me around five years to get him how he is today, it has not been easy! Like any horse, Smudge has his nasty little habits, but I don't let that put me off. Smudge and I have a bond that can never be broken! We're best friends for life! I'm now 15 years old and still training him. He's real fast and fit too, most people don't expect much of cobs like Smudge, but we just go to prove that with a lot of hard work and effort, anything can be done!

    Go to for the most recent video of my two little stars in action!